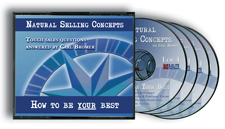 Price:

$59.95


Call to order!
(937) 291-2100
Availability:
Usually ships within 24 hours
Shipping:
$7.95 (each)
Product Description
The four CD Natural Selling Concepts series includes elements from the following topics.
- Disc 1 -
Introduction & Overview – What qualifies listeners? Program goals; Basics and principles that govern sales success; The world's definition of selling vs. ours.
Communication & Persuasion Theory – Why people do what they do! What really controls your success? What controls behavior? The critical function of habit patterns.
The Process & Prospecting & First Call – Prospecting, the best sources for finding new business; Making the "cold" call; Elevator speeches and why they are critical to new calls; Working with secretaries, assistants, and live prospects; The best response to all 1st call objections; The best way to leave voice mail if you want a call-back.
- Disc 2 -
First Call (continued) & Building Rapport – Dealing with objections to the 1st appointment; Building relationships; Projecting the right image; The four biggest relationship killers.
Finding & Developing Real Needs – The rules of communications; The most critical skill for a salesperson to have... (It's not listening); Several good techniques for improving this skill; The best way to qualify a prospect; Closing orders before the presentation.
Presenting - A small part of the process, provided you have done everything correctly up to this point; Talking benefits rather than talking features; Talking values rather than benefits; What you are selling isn't critical...What the customer really needs is!
- Disc 3 -
Customer Objections - Best Responses – Legitimate constraints vs. Objections; How to build best answers for every objection you will ever hear; The Value objections...
Customer Objections - Best Responses (continued) – The combination of quality, service, and price; The Stall objection; The Relationship objection; Why price is the most visible objection but relationship is the real objection.
Closing – The value of trial closing; Five (5) time-proven closes; Plus one to re-open lost orders; Plus one "Old Faithful" that always works!
- Disc 4 -
Planning Your Call & Program Summary – Planning your call... an 8½ x 11 sheet of paper, a pen, and 5 minutes can double your productivity; Program summary.